I made it up to Canada a couple of days ago and have been having fun with my family. I haven't been home since November, so it's been great to be here. It's especially nice for Wyatt and Weston to have cousins to
fight
play with. It's sad to think that I'll be leaving in a few weeks to go back to Utah. I guess I'll just have to enjoy it while I can! But for today, welcome to another We Did It! Wednesday linky party! Here are some fun things from last week (can you tell I'm in a girly mood? Must be all the time I'm spending with my sisters!):
Ruffled checkbook cover from
The Sweet Life
:
Rag tag t-shirt skirt from
Craftastical!:
Initial platter from
The Fancy Fritter
:
Here's a button for those of you who were featured: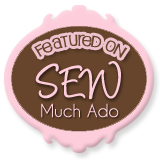 Copy and paste the HTML text below to your own blog or website.